Natural Wonders of the
Jersey Shore and Pines
---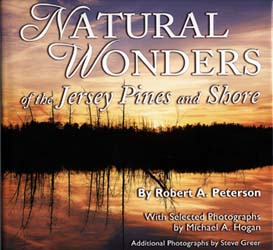 * 300 pages 
* 200+ beautiful color photographs. 
* 57 Chapters including, orchids, swamp pink, carnivorous plants, cranberries, lichens, mushrooms, oaks, pines, turtles, frogs, hawks, owls, horseshoe crabs, shell fish, the bays, rivers and streams, blue holes, sand, tides, wetlands, salt hay, and more. 
* Foreword by Howard Boyd.  
To order a copy signed by Michael A. Hogan send a check or money order for $56.50 to:
Michael Hogan                                           
1511 12th Ave.                                           
Dorothy  NJ 08317                                     

Book cost              $50.00
NJ Sales Tax              3.50 
Shipping                    3.00
________________________
Total                      $56.50
For information call 609-476-2086 or mailto:hoganpho@cavtel.net
---
Courier Post Review
Saturday, March 26, 2005
Loving prose, awe-inspiring photographs in new book
By LAWRENCE R. HAJNA
Courier-Post Columnist
Come, take an armchair tour of South Jersey's natural wonders.
Gaze in awe at a vast mud flat along Delaware Bay, its rippled sand glowing like miniature dunes in a Sahara sunset.
Paddle down a Pine Barrens river, bright green grasses swaying gently in its cedar current.
And for something surreal, get down on your hands and knees and inspect sundew plants, carnivorous denizens of Pinelands bogs that are bristled with sticky hairs that trap insects.
All this adventure can be had simply by flipping through the pages of Natural Wonders of the Jersey Pines and Shore.
The new coffee-table book, written by the late Robert A. Peterson and photographed largely by South Jersey conservationist Michael A. Hogan, is a compendium of all that's subtle, sublime and sweeping about South Jersey's landscape.
You may think of South Jersey as lacking luster, perhaps even downright boring. But Peterson's prose and Hogan's lens may inspire you to see our modest corner of the globe in a new light, even if the outdoors isn't your thing.
Hogan, 44, a longtime Bellmawr resident who now lives in Weymouth, Atlantic County, hopes the book sparks interest in the region's environment, especially for kids.
He is passionate about South Jersey's environment, especially the Pinelands. "I hope this book touches people who live in or near the area, makes them more aware of this treasure," he said.
This is Hogan's first book. He is a professional photographer who works with environmental groups and sells prints.
For years, Hogan had been told printing a full-color, limited-production book would be too expensive. Finally, Medford-based Plexus Publishing, which works with South Jersey authors, latched onto the idea.
The company hooked Hogan up with Peterson, a columnist for weekly newspapers in Atlantic County who lived in Egg Harbor City. Joining them was Steve Greer, a nature photographer from Moorestown, who contributed about two dozen of the book's more than 200 photos.
Peterson, author of two previous books for Plexus, adapted some of his columns and wrote new ones to work seamlessly with the photography.
"I'm not sure what impressed me most: the breadth and depth of his knowledge, his contagious enthusiasm, or his storytelling ability," said Plexus editor John B. Bryans.
The 57 chapters are informative vignettes, covering nearly every imaginable facet of the natural world in South Jersey: blueberries and blue holes, cranberries and crabs, monarch butterflies and mushrooms, honeybees and hawks, beavers and bog iron, sand and snow.
They touch on mankind's relationships with the land and water, as well as the interactions between plants and animals.
Only a few pages are dedicated to the mainstream Jersey Shore of saltwater taffy and boardwalks. Rather, the word shore in the book's title is more appropriately applied to the Delaware Bay region, a place of desolate beaches, expansive wetlands, and abundant wildlife.
Like the Pinelands, the bay shore is special to Hogan; he fears it could one day be lost to development.
The book is broken up into segments by nature-based biblical passages. A deeply religious man and father of seven, Peterson was also headmaster of the Pilgrim Academy, a Christian K-12 school in Galloway. He lived in Egg Harbor City.
Peterson died of a heart attack on Aug. 1, 2003. He was only 47. However, he did see a rough draft of the book on CD just a week before he died, said his wife, Susanna.
She can now almost hear her husband's voice as she reads the chapters of his final book.
"The book is more beautiful than we ever expected; it's breathtaking, and it's a gift to have this as his legacy," she said.
"He enjoyed showing people that this is a beautiful place." 
---
NEWS RELEASE
Plexus Publishing, Inc.
143 Old Marlton Pike • Medford, NJ 08055-8750 • Phone: 609/654-6500 • FAX: 609/654-4309
E-mail: info@plexuspublishing.com • Web: www.plexuspublishing.com
For Immediate Release
For more information or a review copy, contact:
Pat Palatucci (609) 654-6500, x144
Natural Wonders of the
Jersey Pines and Shore
New illustrated book celebrates southern New Jersey's diverse flora, fauna, and natural resources.
Written by distinguished author and educator Robert A. Peterson, the book is
being published posthumously by Plexus Publishing, Inc.
February 28, 2005, Medford, New Jersey—Plexus Publishing, Inc. has announced the publication of Natural Wonders of the Jersey Pines and Shore, written by the late Robert A. Peterson with selected photography by Michael A. Hogan and additional photography by Steve Greer. Fifty-seven short yet informative chapters showcase a range of "natural wonders" associated with southern New Jersey, with an emphasis on the region's unique Pine Barrens and coastal ecosystems. The diverse topics covered include flora, fauna, forces of nature, and geological formations—from birds, mammals, and mollusks, to bays, tides, trees, wildflowers, and much more.
Peterson, who passed away in 2003 at the age of 47, researched and wrote much of the material for his regular column in The EggHarbor News, significantly revising and expanding it for inclusion in the book. He joined forces with one of the region's most celebrated nature photographers, Michael A. Hogan, in order to create a book that would be both educational and visually stunning. Nearly 200 of Hogan's striking images bring Peterson's vignettes to life, augmented by the sensitive work of Steve Greer—an award-winning South Jersey-based photographer who contributed more than two dozen nature photos to the project.
"Bob Peterson was a gifted writer with an insatiable curiosity about nature and history," said John B. Bryans, Peterson's editor at Plexus Publishing, Inc. "I'm not sure what impressed me most: the breadth and depth of his knowledge, his contagious enthusiasm, or his storytelling ability." Bryans added, "It's a shame Bob did not live to see Natural Wonders published, but I take some solace in a conversation we had shortly before his death. He was totally fired up about the first complete draft of the book, and that reaction sustained and motivated us after his sudden passing. I think he would be pleased with the outcome."
Carleton Montgomery, Executive Director of the Pinelands Preservation Alliance (PPA), said, "In capturing the beauty and uniqueness of southern New Jersey, Natural Wonders makes it clear why so many people have worked so hard to save its treasure of nature and human history. This extraordinary book will inspire readers to cherish the Pine Barrens and coastal estuaries anew."
Author Robert A. Peterson (1956-2003) was an educator, journalist, historian, and avid sportsman. A father of seven, he was a beloved figure in his hometown of Egg Harbor City, New Jersey, where he served for over 22 years as headmaster of The Pilgrim Academy and was once named "Citizen of the Year." The author of more than 2,000 newspaper articles, his other books include Patriots, Pirates, andPineys: Sixty Who Shaped New Jersey. Principal photographer Michael A. Hogan ranks among southern New Jersey's premier outdoor photographers. Best known for his large-format photographs of the Pine Barrens, the Delaware Bay and River, wild orchids, and rare wildflowers, he has completed ten watershed photo-documentary projects with grants from the New Jersey Department of Environmental Protection. Plexus Publishing, Inc., is a Medford, New Jersey based publisher of books and journals. Plexus books, including Natural Wonders of the Jersey Pines and Shore.
.